Green Wall Systems
Make a statement with a unique moss or living wall
We offer two types of
green wall systems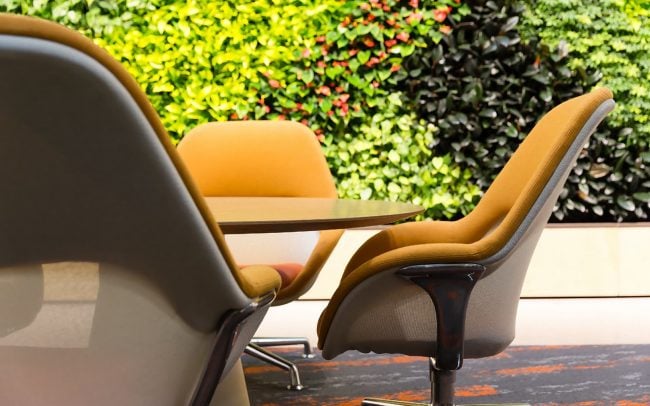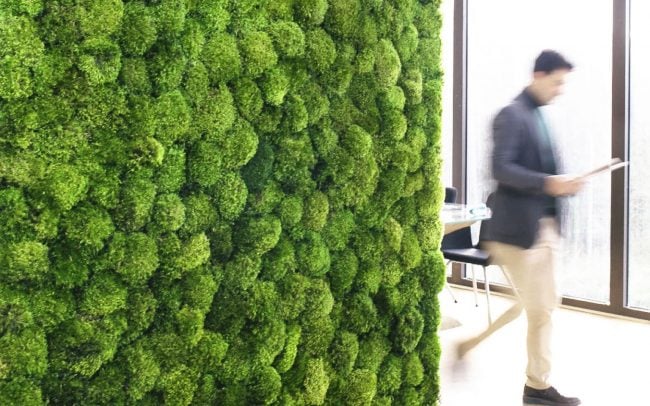 Looking to go vertical ? No problem.
With horizontal space at a premium, we have taken plants up the walls to bring the incredible benefits of nature to any commercial environment. Green living walls showcase the impressive diversity of nature and are available in all shapes and sizes, for indoors or out, modular or made to measure.
Impactful & Dramatic Aesthetic
Nature derived works of art.
Our preserved moss wall designs can be placed just about anywhere—from the main focal point of your lobby, to the restrooms, or even the ceiling! Moss Walls do not need on-going maintenance, making them a cost-effective approach to incorporating natural elements into your workplace.
Artistic & Modern Natural Art
Cost Effective Alternative
Living

walls

Get vertically inspired.
Living walls bring a whole new meaning to natural, space-saving interior design. Elevate the aesthetic of any space with a unique and modern approach to live plants. Employees and visitors marvel at the lush greenery and impressively calming displays. Indoors or out, green living walls will massively transform the look and feel of your environment. Get the same benefits of traditional potted live plants, with a unique and unforgettable design feature that will leave a lasting impression.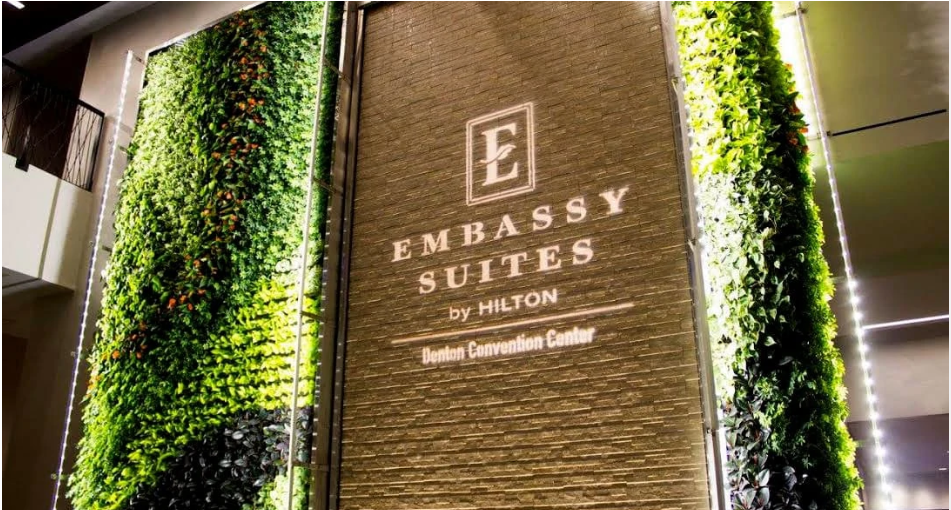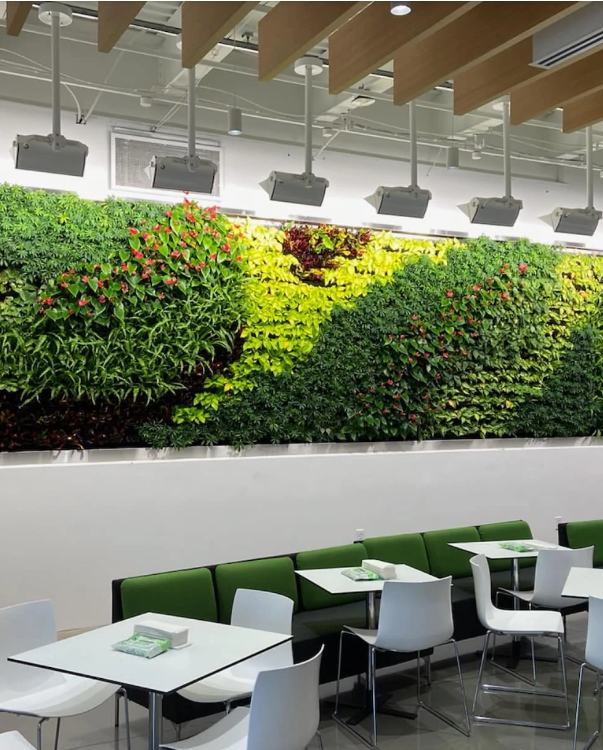 The

benefits

of living walls
Increased Employee Productivity

Interior plants are more than office decorations. They've been scientifically proven to decrease employee stress levels while raising productivity by as much as 12%. Improved workplace morale amongst employees and clients alike has also been linked to indoor live plants. Employee's productivity, creative performance, and overall satisfaction increase substantially when living foliage and flowering plants are introduced into the work environment. In fact, the majority of Fortune 500 companies have landscaped their office interiors with live plants in order to help boost morale, build employee satisfaction, and promote productivity.
Better Air Quality & Humidity

Sick Building Syndrome is a serious and expensive liability when common microorganisms and toxins become concentrated within sealed office buildings. Research confirms that sealed office buildings are often 10 times more polluted than the air outside. But research also shows that plant-filled rooms contain up to 60% fewer airborne molds and bacteria than rooms without plants. Many studies, including those conducted by NASA, have proven plants commonly used in interior foliage design cleanse the air of many harmful pollutants such as formaldehyde, benzene and trichloroethylene. Plants also help keep humidity within a healthy range, and thus reduce upper respiratory complications for some people. As an employer, adding plants to your place of business can reduce expenses incurred from employee sick days. And healthier employees equal happier employees!
Cost & Energy Savings

Studies show the moisture released by plants in office environments creates a humidity level matching the human comfort range of 30% to 60%. When office air humidity falls below this range, materials such as wood can become cracked. When office air humidity exceeds this range, condensation on windows and exterior walls can cause structural damage. By keeping office air humidity levels within the proper comfort range, interior plants can help avoid costly repairs. Also, the proper selection and placement of plant material can lower heating and cooling costs by as much as 20%.
Impactful Impression

Living green walls are impactful and dramatic! Employees and visitors will marvel at the lush greenery and calming displays. Creatively designed vertical gardens provide attractive color, texture and incredibly stunning displays. The emerging living green wall trend requires design inspiration and an in-depth knowledge of plant species that work. With proper selections, the results are spectacular!
Collaborative Spaces & Sound Control

Modern open office design encourages employee interaction and spontaneous conversation, but this often leads to noise and distraction. One way to reduce the amount of noise in buildings is through the use of plants. Living green walls contribute to overall noise reduction by absorbing, refracting, and reflecting sound waves. The result is a more intimate, quiet space that encourages focused energy and creativity.
Sustainability & LEED

Leadership in Energy and Environmental Design (LEED) is a rating system devised by the United States Green Building Council (USGBC) to evaluate the environmental performance of a building and encourage sustainable design. Planted walls can make a building more energy efficient by providing a shield from strong summer sunlight and provide protective insulation during the winter months. This reduces energy consumption and the building's carbon footprint. Exterior living green walls also provide a habitat for butterflies, ladybugs and small birds within their ecosystem. The use of living green walls can help a building to earn LEED points making it more attractive to occupants and increase the property's overall value.
Inviting & Welcoming Environment

The advantages of a professionally installed and maintained landscape go beyond "curb appeal" and head straight for the bottom line. A well-designed interiorscape invites and welcomes customers to your place of business. For multi tenant buildings, adding living plants has been linked to producing higher occupancy rates, increased rentals and lower vacancies.
What our clients are saying

We've helped hundreds of businesses transform boring walls into works of wonder.

"Thank you for taking our vision and making it happen. Our office looks and feels incredible, what a difference to say the least! Many compliments from our employees today!"
Moss

walls
Stand out from the crowd.
Moss walls are innovation meets inspiration. Transform any average space into a modern work of art. Conversation starter. Showstopper. Statement piece. Call it what you will! A moss wall in your commercial space will leave a lasting impression on both employees and customers alike. And with little to no maintenance, moss art installations can be placed just about anywhere to enhance your commercial space.

View a Moss Wall Concept to Creation example →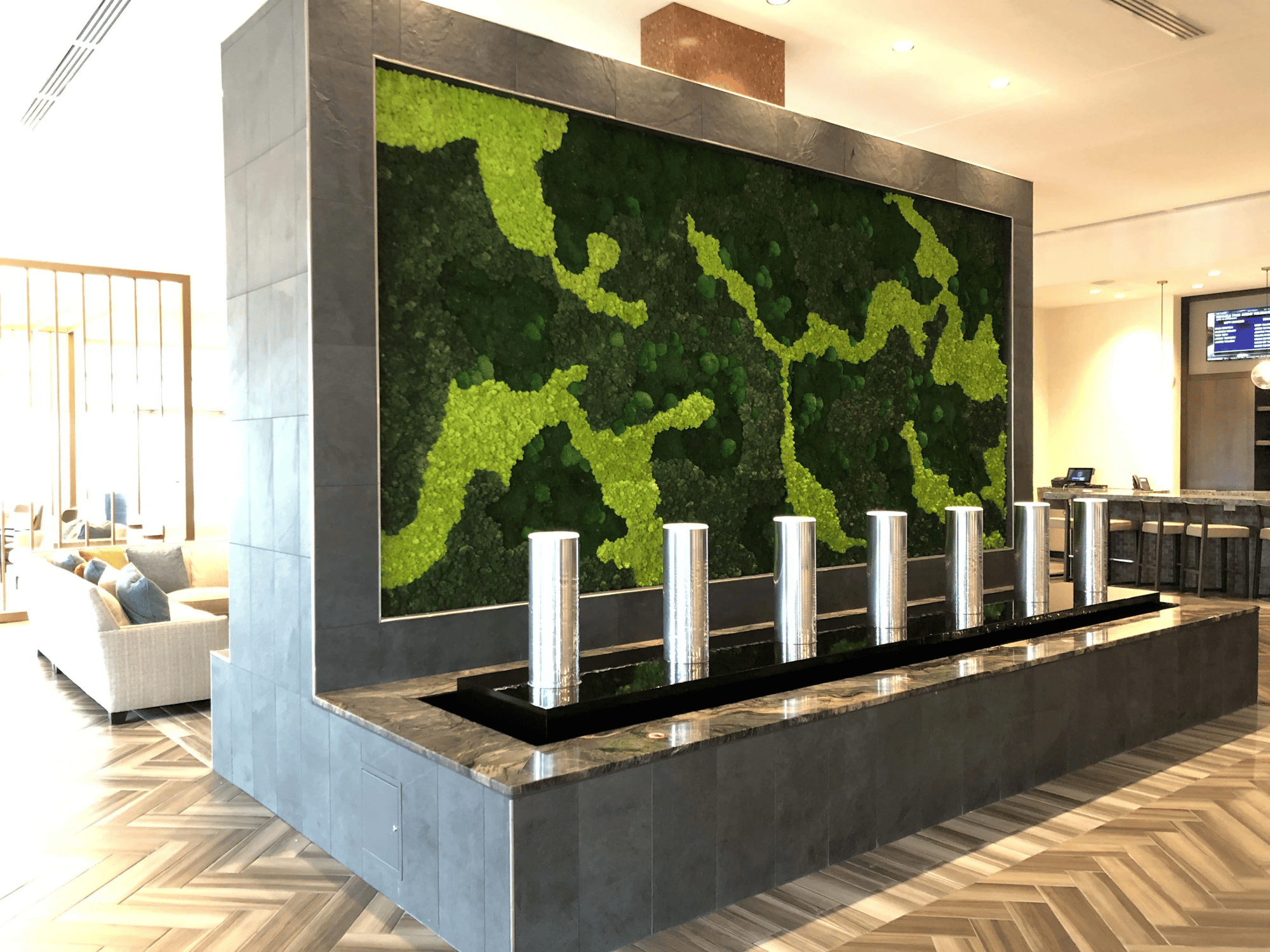 The

benefits

of moss walls
Natural & Authentic

Only 100% natural and authentic Reindeer, Mood & lichen Moss used
Acoustic Sound Absorber

Absorbing up to twice as much as the industry average for products of same size and thickness
Environmentally Friendly

Our moss is hand-picked with care for nature, certified & approved by ISO 9001 and ISO 14001 standards
Fire Resistant

Our natural preserved moss is cleaned & stabilized for flame retardance certified by ISO 11925-2 for interior use
Air Purifying

Through a constant cycle of absorption and release of ambient moisture, air particles are removed
Natural Humidity Indicator

Reindeer Moss dries when the relative humidity falls below 40%, and returns soft again above 40%
Hypoallergenic

Our products do not contain toxic chemicals or components
Maintenance-free

Preserved Moss does not require any sunlight, watering or pruning
Flexible locations

Preserved Moss installations can be placed just about anywhere—even the ceiling!
What our clients are saying

We've helped hundreds of businesses transform boring walls into works of wonder.

"I wanted you guys to know I appreciate how responsive and professional you all are. You are seriously one of the best vendors/companies I've worked with, and I'm so happy we chose to partner with Natura."